NodeMobile Data Configuration for FRITZ!Box Routers
Logging into your FRITZ!Box
Step 1
Make sure that your computer is connected to the FRITZ!Box - either with an Ethernet cable, or over a wireless network.
Open your preferred web browser, for example: Internet Explorer, Google Chrome, or Mozilla Firefox.
Enter the following number into the address bar and then hit Enter on your keyboard:

192.168.178.1 (this number is called an IP Address).

Figure 1: Entering the IP address to access the router
Step 2
The router will ask you for the administrative password. If you purchased your FRITZ!Box from Internode, your router has been pre-configured and the default password will be as follows:
Password:
admin (FRITZ!OS 7.0 and earlier)
admin123 (FRITZ!OS 7.01 and later)
This is the router's default password.
We recommend that you change the password for security reasons.
Once you have entered the password, click Log In.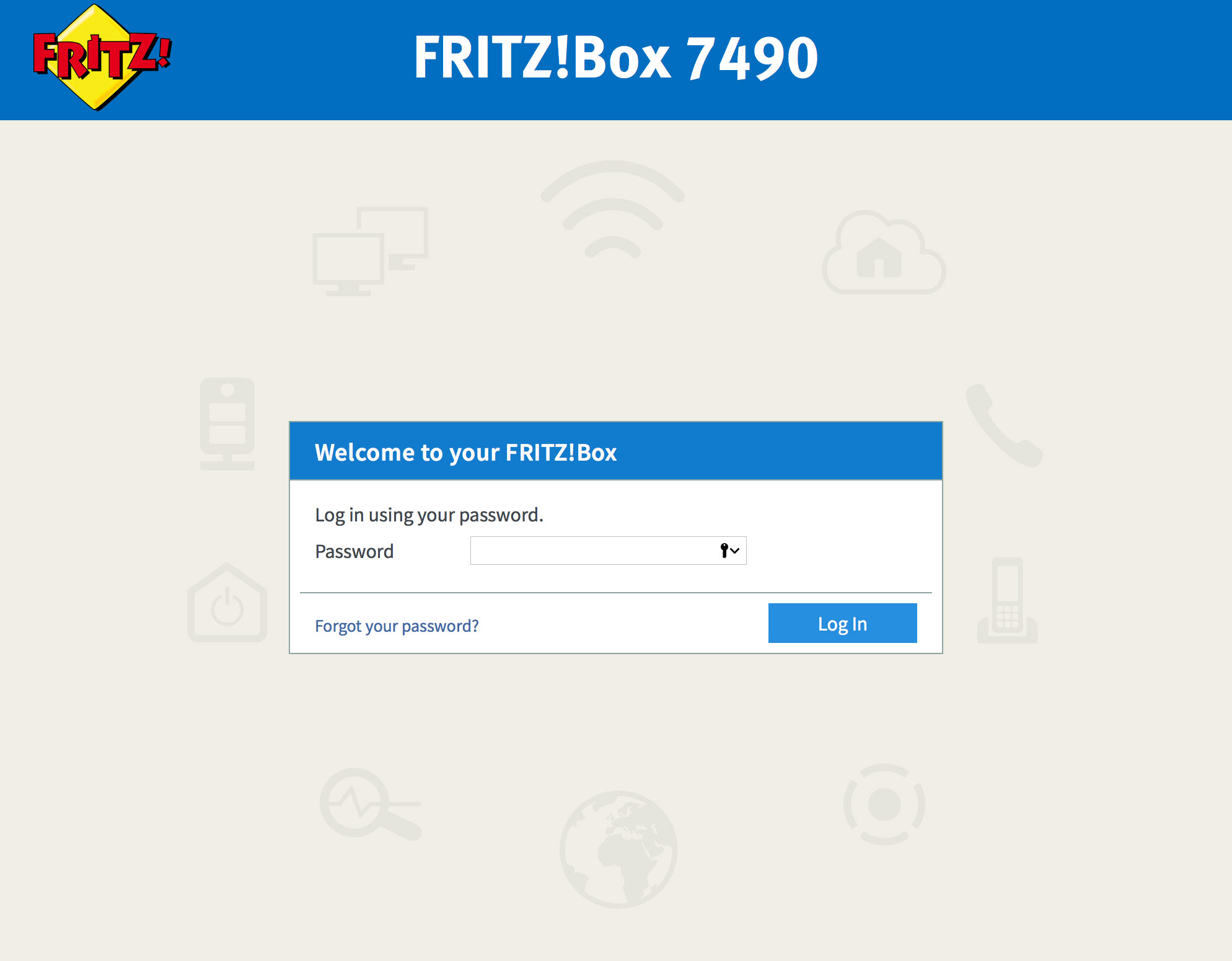 Figure 2: The FRITZ!Box Log In screen
If the default password does not work, it has likely been changed. If you do not know the password, you will need to factory reset your FRITZ!Box before you can access the user interface.
You can reset the FRITZ!Box to factory settings by clicking Forgot your password? and then Restore Factory Settings. Please note that this will overwrite all of your settings.
Once you have reset your FRITZ!Box to factory settings, you will be redirected to the setup wizard.
NodeMobile Data 3G Setup
Step 1
Plug your NodeMobile Data USB modem into the USB port on the back of your FRITZ!Box.
Click Internet in the menu to the left of the screen. New options will appear underneath.
Click Mobile Communications to view the mobile broadband settings.
NOTE:
If Mobile Communications does not appear in the FRITZ!Box menu, check that your NodeMobile Data modem is properly plugged into the USB port. You may need to unplug the USB modem and plug it in again.
Step 2
At the bottom of the screen, check that Mobile communications network provider is set to Other operator.
Type internode into the Access point field.
Type *99# into the Access number field .
Type ppp into both the User name and Password fields.
Click the Apply button once all the settings have been entered.
Figure 3: Mobile internet connection settings for NodeMobile Data.
Setting up a MobiiConnect 4G with USB Tethering
If you're using a MobiiConnect 4G, USB tethering options will appear. To set up mobile communications, simply make sure that Internet connection via smartphone or mobile communications stick by USB tethering is selected at the top of the screen.
Congratulations! You have successfully configured NodeMobile Data on your FRITZ!Box router.
Further Assistance
If you are looking to set up your Internet, Wireless, or NodePhone VoIP, please refer to the following setup guides:
If you are having trouble setting up your router, or would like to clarify some of the steps, please contact our Support Team.