NodePhone Configuration for Billion 6404VGP, 7402VGP, and 7404VGP-M Routers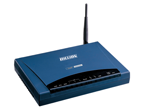 The Billion 6404 series are Ethernet VoIP routers used on Internode's Fixed-Wireless broadband services.
NodePhone Cable Setup
The following steps will set up NodePhone with a "fallback" to your regular (PSTN) telephone service. This will allow you to switch between your NodePhone service and the PSTN service.
When dialling out through NodePhone, you will hear a distinctive dial-tone, which sounds like a long hum. On most handsets, pressing the # key will switch between your NodePhone service and your PSTN service.
If you have a Naked, Fibre to the Premises, or Fixed-Wireless service, simply complete Step 2.
Connect a phone cable between the Local Phone port on the ADSL splitter and the Line port on your Billion modem.
Connect your telephone handset to the port on the router marked with a picture of a handset. Some modems may have a second socket for another handset to be connected.
Configuring your NodePhone VoIP service
Step 1
Make sure that your computer is connected to your router with an Ethernet cable.
Open your preferred web browser, for example: Internet Explorer, Google Chrome, or Mozilla Firefox.
Enter the following number into the address bar and then hit Enter on your keyboard:

192.168.1.254 (this number is called an IP Address).

Figure 1: Entering the IP address to access the router
Step 2
The modem Log In page will open. You will be prompted for a username and password.
Username:
admin
Password:
admin
This is the router's default username and password.
We recommend that you change the password for security reasons.
Click OK to log in to the router.
Step 3
Select Configuration from the menu to the left of the screen.
New options will appear underneath Configuration. Select VoIP from the new options.
Further new options will appear. Select Wizard from the menu, underneath VoIP.
Step 4
Enter the following information into the corresponding fields:
DSCP Marking:
Premium
SIP Service Provider:
NodePhone
Phone Number:
Your NodePhone Number.
Ensure that you include the area code and that there are no spaces in the number, for example, 0812345678
Authentication Username:
Your NodePhone Number.
Ensure that you include the area code and that there are no spaces in the number, for example, 0812345678
Authentication Password:
Your NodePhone Password.
Click Apply to apply your changes.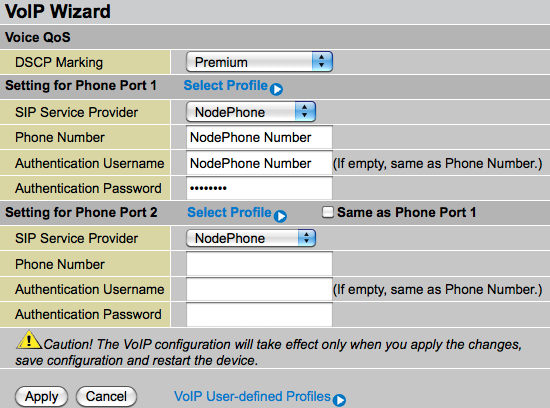 Figure 2: Entering NodePhone configuration details
Step 5
Click the Save Config button at the bottom right of the screen.
You will be asked to confirm that you wish to save the changes. Click Apply to save your settings to the modem.

Figure 3: Saving your settings
Congratulations! You have successfully configured your NodePhone service.
Advanced Configuration and Troubleshooting
If you are experiencing problems with NodePhone, it is strongly recommended that you update your modem's Firmware (the software that the modem runs) to the latest recommended version, and check your Dial Plan and DTMF settings.
Firmware Update
It is highly recommended that you ensure your Billion router is running the current firmware version supported by Internode. The current recommended firmware can be downloaded from the Internode File Download Mirror.
NOTE: The firmware version recommended by Internode may be different from the firmware versions available on the Billion website.
Dial Plans and Configuration Files
Dial Plans allow certain types of calls to go through your traditional telephone service (if you have one), or to "fall back" to your traditional telephone service in the event of a broadband or mains power outage.
There are two types of dial plan configurations:
The Lifeline configuration - which falls back to a standard telephone service for 000 and 1300 calls, and in the event of power or broadband outages, and
The VoIP Only configuration, if you do not have a standard telephone service.
If you use the VoIP Only configuration, consider alternative methods for calling 000 emergency services - such as a mobile phone - in the event that the NodePhone service, your broadband connection, or mains power is unavailable.
DTMF and Voice Mail
For NodePhone's Voice Mail feature to work correctly, your VoIP hardware must support the RFC2833 DTMF Standard. Most VoIP equipment already supports this standard. Billion 6404 and 7404 routers (sold before 23 April 2007) may need a firmware and configuration update.
Further Assistance
If you're looking to also set up your ADSL or Wireless service, please refer to our other guides:
If you are having trouble setting up your router, or would like to clarify some of the steps, please contact our Support Team.